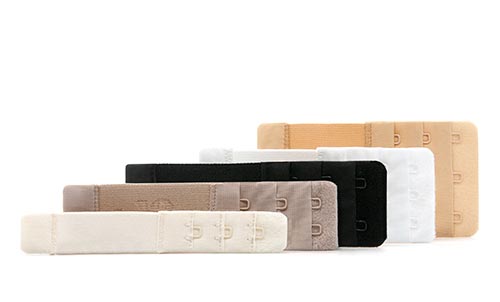 Bra extenders for bras are classic items within the world of corsetry that are used for increase the circumference of the bra and help to lengthen its life. Easy to adapt and without need of sewing, the extension enlarges the size of the fastener quickly and easily, adapting it to the correct size for a pleasent and comfortable use of the piece.
In the DALAY catalogue there are four different types of bra extenders: elastic bra extenders, non-elastic bra extenders, body suit extender and low back bra extender.
There are different sizes of bra extenders to adapt in the best way to the characteristics of the bra. According to the types of bras that are on the market we have bra extenders of one hook, two hooks - wide and narrow - and three hooks - wide and narrow -. We have a color card of six colors for these items, except for the elastic bra extenders that we offer a range of 15 colors.
Due to its great usefulness traditionally the bra extenders have always been offered to haberdasheries, underwear stores or lingerie stores.